Morning everyone!
Well, I geeked-out a little bit and made a poster. What do you think?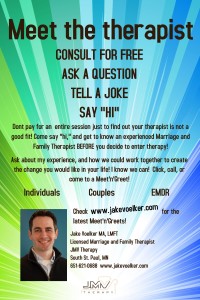 In the near future I'll be hosting Meet'n'Greets in different locations so that people will have a chance to meet me, get to know my personality, my history, style, skills, etc, and see if we would be a good fit for doing therapy together! I don't believe that people should have to pay for an entire session just to see if you jive with your new therapist or not. I've done that in the past, and I know how expensive it can get just finding somebody you feel comfortable meeting with! SO! Check out the newly created Meet'n'Greets page for upcoming opportunities to meet the therapist! None have been set in stone yet, but are coming soon! Hope to see you there!!
(Just a note about confidentiality: I hold my clients right to confidentiality in the highest regard, and keep all identifying information obtained from my clients private. By attending a Meet'n'Greet, you agree that other members of the public may inadvertently see or hear our conversation. Meet'n'Greets are intended to allow others to meet with me and see if we would be good fit for therapy, not to diagnose or treat.)
In addition to coming out to a Meet'nGreet, you can always call and do a free 10-15 minute consultation on the spot, or schedule one in the future!
Getting to know a therapist you might hire should be easy and helpful. Here are some questions you could ask any therapists before deciding to hire them:
1. Are you licensed? Whats your level of education? How long have you been in practice?
2. What issues do you specialize in treating?
3. What theories do you use in your approach to therapy? How are they different?
4. What techniques might you use in therapy for the concerns I have?
5. Are you trained in EMDR? How could I benefit from EMDR?
6. What do you charge? Do you take insurance? How do I pay?
Take care!!
– Jake